Cosmetic Dentistry
Cosmetic dentistry is generally used to refer to any dental work that improves the appearance (though not necessarily the functionality) of teeth, gums and/or bite. It primarily focuses on improvement in dental aesthetics in color, position, shape, size, alignment and overall smile appearance.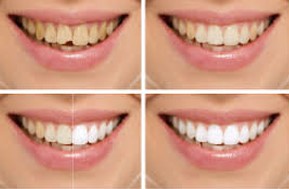 Types
Cosmetic dentistry may involve:
• The addition of a dental material to teeth or gums – examples: bonding, porcelain veneers (laminates), crowns (caps), gum grafts
• The removal of tooth structure or gums – examples: enameloplasty, gingivectomy
• Neither adding nor removing dental materials, tooth structure, or gums – examples: teeth whitening (bleaching), laser whitening, gum depigmentationv
• Veneers, dental laminates
Smile Designing
A smile design is a dental procedure which artistically creates straighter, whiter and beautiful natural looking smiles. Smile designs can do wonders to fully restore your dental health and appearance regardless of the original state of your existing teeth. Smile Concept dental care will work with you to customize and plan your smile design. We make sure you achieve your cosmetic dental goals and to resolve your underlying dental problems. The timeline is planned so as to minimize the number of appointments and to make sure your smile is completed in time for your special social function.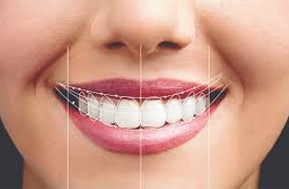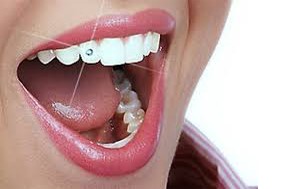 Dental Jewellery
The beauty of a dazzling white smile can be further enhanced by the use of "Tooth Jewellery. These jewels are made of crystal glass. Placing these stones is a very brief procedure but it goes a long way in satisfying the dental cosmetic needs of the patient.
Whitening
Whitening, or "tooth bleaching", is the most common cosmetic dental procedure. Our dentist will first evaluate your teeth and smile to determine whether whitening is right for you. In some cases, a different cosmetic procedure may better meet your expectations, but whitening is a safe, fast and easy process that is effective for almost everyone. While many whitening options are now available, including over the counter products, dentist-supervised treatments remain the recommended procedures for lightening discolored teeth. Laser whitening is a teeth whitening technique in which gums are covered with a rubber dam and a bleaching chemical is applied on the teeth. A beam of laser, is intended to accelerate the process of bleaching, upon the teeth. This laser activates the bleaching chemical and lightens the teeth color. Laser whitening is said to be six times more effective in teeth whitening compared to other procedures.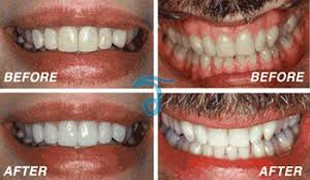 Reshaping
Tooth reshaping removes parts of the enamel to improve the appearance of the tooth. It may be used to correct a small chip, or to alter the length, shape or position of teeth, as well as when there is any tooth size difference. It can be used to correct crooked or excessively long teeth. The removed enamel is irreplaceable, and may sometimes expose dentin. It is also known as enameloplasty, odontoplasty, contouring, recontouring, cosmetic contouring, slenderizing, stripping. This procedure offers fast results and can even be a substitute for braces under certain circumstances.
Bonding
Bonding is a process in which an enamel-like dental composite material is color matched, applied to a tooth's surface, sculpted into proper tooth contour, hardened and then polished. An examples of a bonded restorations are inlays and onlays, which are used to repair decayed & cracked teeth. Teeth damaged by small to moderate decay, erosion, or small fractures can be repaired with direct composite restorations bonded to the teeth. Aesthetics are especially critical in anterior composite restorations
Veneers
Veneers are ultra-thin, custom-made porcelain laminates that are bonded directly to the teeth. They are an option for closing gaps, enhance the shape, or change the color of teeth that do not respond well to whitening procedures. In the majority of the cases, some level of tooth reduction is necessary for optimal result.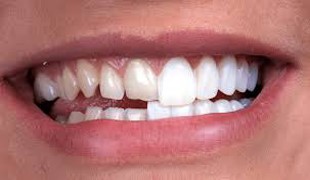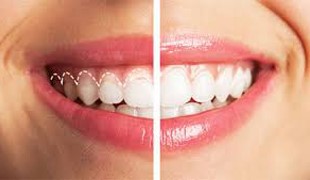 Gum lifts
A gum lift is a cosmetic dental procedure that raises and sculpts the gum line. The procedure involves reshaping the tissue and/or underlying bones to create the appearance of longer or more symmetrical teeth.
Straightening
Invisalign treatment is being used as an alternative to traditional metal braces. Invisalign helps in treating spacing, crowding, and overlapping teeth to create the smile patients desire. This system has treated hundreds of thousands of patients and has been around for over a decade. Clear aligners are comfortable, invisible and easy to clean.