Oral Pathology
Oral pathology is a wide-ranging dental specialty that includes a wide range of abnormalities and diseases. Oral and maxillofacial pathology refers to the diseases of the mouth , jaws and related structures such as salivary glands, temporomandibular joints, facial muscles and perioral skin.
The specialty oral and maxillofacial pathology is concerned with diagnosis and study of the causes and effects of diseases affecting the oral and maxillofacial region. It is sometimes considered to be a specialty of dentistry and pathology.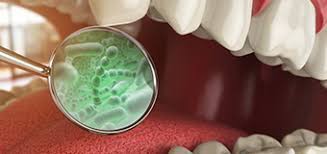 The key to any diagnosis is thorough medical, dental, social and psychological history as well as assessing certain lifestyle risk factors that may be involved in disease processes. This is followed by a thorough clinical investigation including extra-oral and intra-oral hard and soft tissues. Oral and maxillofacial pathologists use soft tissue and bone biopsies with the information from dental examinations and x-rays to investigate patients' cases. There are many types of investigations in diagnosis of oral and maxillofacial diseases, including screening tests, imaging (radiographs, CBCT, CT, MRI, ultrasound) and histopathology (biopsy).