Prosthodontics
Prosthodontics, also known as dental prosthetics or prosthetic dentistry, is the area of dentistry that focuses on dental prostheses. This dental specialty is primarily concerned with the restoration and replacement of lost or damaged teeth. Sometimes called the "architects of the smile," prosthodontists are highly trained specialists with a unique understanding of all the elements that go into a beautiful, functional and natural-looking smile—not just the teeth, but also the gums, lips, and facial features. Also plans out a full-scale smile makeover.
Prosthodontists give you a mouth makeover, or a mouth rehabilitation. But in each of these cases, you are talking about three main services: Dental implants, cosmetic dental veneers, and treatment of gum disease.
These specialists plan and carry out procedures related to the replacement of natural teeth, in part or in full, with biocompatible substitutes.
• Dentures – A denture is a removable replacement for missing teeth and surrounding tissues. Dentures — are available in many different types, including full, partial, and implant-supported varieties. They can improve the aesthetics and functionality of an individual who is missing teeth—particularly when the dentures are manufactured to a high standard of workmanship and fitted correctly in the mouth. However, wearing dentures typically requires an adjustment period, and some find them uncomfortable in certain situations.

• Porcelain Veneers — wafer-thin shells of ceramic material that cover the front surfaces of teeth, providing a dramatic change in appearance. These are bonded to teeth that have been prepared by having a small amount of enamel removed, so they don't appear too bulky. Long-lasting veneers can change the size, shape or color of teeth, and even close small gaps between.
• Crowns — artificial covers (sometimes called "caps") that replace the entire visible surface of a tooth above the gum line. Fabricated of metal, porcelain fused to metal, or all-ceramic (porcelain), latest zirconia, crowns are cemented to a prepared tooth with intact roots. They are often needed after a root canal procedure, or to repair fractured, broken or misshapen teeth.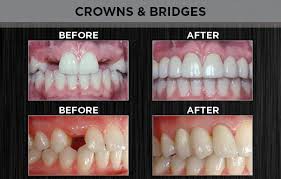 • Dental implants — when it's necessary to replace an entire tooth (both roots and crown), this method is considered today's gold standard. Implants consist of a titanium metal post which is implanted in the jaw in a minor surgical procedure. This screw-like post becomes fused with the jaw bone, providing a solid anchorage for a lifelike crown. Implants can be used to replace single or multiple teeth, or to support other types of dental restorations, such as dental bridges or dentures. While implant surgery is usually performed by other specialists, prosthodontists often design and place the implant crowns. Implants are the best tooth replacement method, also prove an excellent value in the long run, as they can last a lifetime.
• Fixed Bridges — This tooth-replacement method uses the existing, healthy teeth (called abutment teeth) on either side of a gap to support one or more artificial teeth. A series of linked crowns is fabricated as a single unit, which is then attached to the prepared abutment teeth. These work like a roadway-bridge foundation to hold up the crowns for the missing teeth in between. Bridges are a time-tested tooth-replacement method.